Over the past few years, smartwatches have become one of the best fashion trends. There are multiple watches which are made by various different companies and the one that started the whole trend was Apple. However, if you think that you can easily buy a brand new Apple Series 8 smartwatch then you're sorely mistaken because its price is much higher than an average person can afford.
That's why in today's top 3 list, I'll be going with three of my personal favorite brands that manufacture budget-friendly digital wristwear. I'll also be mentioning my personal favorite. Therefore, let's get started without wasting any more of your precious time.
Top 3 Budget-Friendly Smartwatches to Buy in Pakistan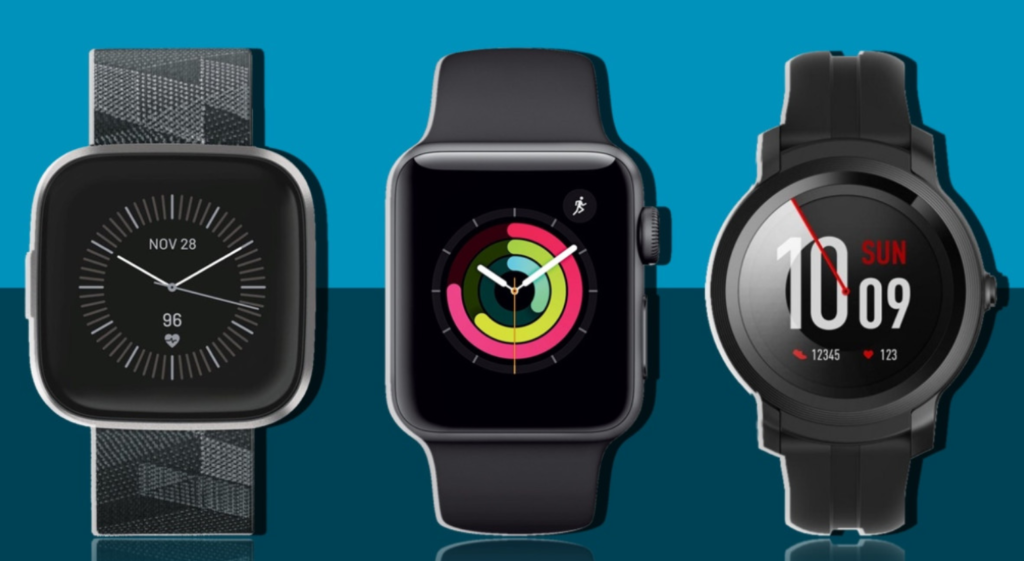 I've bought and used several types of digital wristwear (e.g, Fitbit, etc.) over the years at varying price points. Out of all of them are my top picks for the best smartwatches in Pakistan. Keep in mind that all of these watches are according to my preference and price points, so don't get mad at me if I don't mention your favorite watch.
1. Samsung Galaxy Watch 4
I'm going to start off this list with a tad bit expensive smartwatch but it's my personal favorite Samsung smartwatch because it gives the best performance at such a price point. It comes with an amazing 1.4 inches circular display which gives the same look as any other normal watch, so you won't have to worry about wearing it on a formal occasion.
Speaking of the display, it features a corning Gorilla Glass DX+ display giving some extra protection against scratches and scuff marks. Additionally, it also comes with an always-on display, meaning you keep track of all of the notifications without wasting too much battery.
It also comes with an Exynos W920 (5nm) chipset which is more than enough to handle your everyday tasks. Additionally, like some of the best Apple smartwatches, this smartwatch also comes with 16GB of internal storage and 1.5GB RAM.
Additionally, it also comes with a 361 mAh battery that can easily last you through the day without worrying you about recharging it.
2. Xiaomi Watch S1 Active
Now, moving towards much more budget-friendly options, let's discuss the Xiaomi S1 Active. This Xiaomi smartwatch is truly amazing because Xiaomi has made sure to put as many features as possible in a budget-friendly range. I've been using the Mi Smart Band 6 for quite some time now and I can vouch for the quality of their products.
It features a similar design when it comes to Galaxy Watch 4 but with a slightly bigger display of 1.43". The refresh rate of this smartwatch is at an amazing 60Hz. You can also get to choose from 200+ watch faces depending on your mode. It also has a ton of health-related features to keep track of your physical well-being.
However, the main selling points of this watch are its water resistance and its battery. If we talk about the water resistance of the smartwatch then it comes with an impressive 5ATM water resistance which is ideal for jogging and sweaty gym sessions. It's also resistant to splashes of water but I don't recommend putting your smartwatch at risk. The next thing that I liked about this watch is its 470 mAh battery life which is more than Galaxy Watch 4 meaning you'll get much more juice in the long run.
3. Amazfit GTR3 Smart Watch
The last smartwatch that I'll like to mention is less known because the brand itself isn't very old but it sure is making a name for itself by creating some of the best accessories on the market. The Amazfit GTR3 Smart Watch is truly a one-of-a-kind smartwatch that really gives a bang for your buck. It comes with an aluminum alloy body meaning it's much more sturdy than other watches that have a plastic body.
The display size of this watch is 1.39″ which is a bit smaller than others on this list but still good enough to use. It also features 5ATM water resistance for people who normally wash their hands with a smartwatch on. Plus, it also comes with a 450 mAh battery which gives you enough power that you'll almost forget to charge the device.
Conclusion
All of these watches are amazing and would highly recommend that you check them out. My personal favorite is the Xiaomi Watch S1 Active because Xiaomi is a well-established brand with some of the best tech on the market.
I'm actually using it right now and I can say with confidence that it's definitely one of my favorites. I bought this from an online store called Wise Market which sells all kinds of smart devices. I also bought a used iPhone 12 Pro from them which to be completely honest is one of the best devices that I've ever used. They have a wide collection of smartphones and other accessories.